A historic residence for a pleasure-filled journey
With its 27 rooms overlooking the landscaped garden, you will have all the time in the world to relax and make the most of the pleasures of the outdoor swimming pool against a historic backdrop weathered stone ruins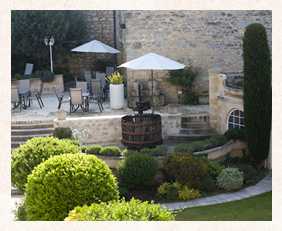 The Palais Cardinal*** offers you:
Very comfortable, quiet rooms (Luxury or Suites)
A concierge service
A swimming pool out of sight in its private garden
Private garden
Terrace in front
Private locked garage
Municipal tennis courts 100m from the hote
Theatre-style seminar room for up to 100 people for your professional events
The hotel can provide meals for groups of up to 150 people.
Direct sale of wines from Château Clos de Sarpe St-Emilion Grand Cru. Guided tasting sessions can be arranged at the property upon request
Location - Les Pierres de Saint-Emilion
Our hotel restaurant, located at the north entrance to the medieval village of Saint-Emilion, adjoins the antique Bourgeoise gate (one of the 6 gates of Saint-Emilion) giving access to the village and overlooking the vineyards in their magnificent setting inside the walls of the former residence of the first Dean of the collegiate church of St-Emilion Gaillard de Lamothe, the "nephew of the soldier pope, Clement V" who was appointed Cardinal of Saint Luce in 1316. This residence became a family hotel in 1878 and is today lovingly run by Christine and Jean-Guy Beyney, the third generation of owners.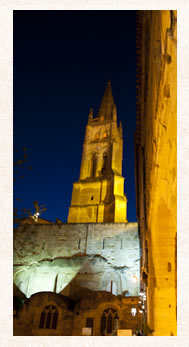 Discover Saint-Emilion
Saint-Emilion remains without question the most popular destination for tourists on holiday in the area and for lovers of exceptional, refined, elegant wines. This beautiful medieval village, located in the heart of the famous Bordeaux vineyard - the so-called thousand vintage hill - is unique in the predominance of its wine-growing properties, the quality of its wines and the majesty of its architecture and monuments. This medieval village, listed as a Unesco world heritage site, with its art, its history, its vines, its beautiful houses and the charm of its welcoming countryside is a distillation of marvels waiting to be discovered.
Perched on a rocky promontory steeped in history, the village of Saint-Emilion and its vineyard draw their originality from the chalky rock. This omnipresent stone provides the vines of Saint-Emilion with an exceptional soil. Over the centuries, man has always adapted to this magnificent countryside with its hills and valleys without ever transforming it, resulting in a harmonious uniformity of architectural styles and colours: the soothing ochre light enfolds the landscape whilst the stones steeped in history take us back over the ages of French tradition.