For a gourmet experience accompanied by seasonal cuisine with its flavours of the south-west
Our chef, Daniel Gata welcomes you for a pleasant moment together in a cosy, delicately decorated room opening onto the flower garden at the Palais Cardinal hotel***.
The restaurant is open from 3rd May to 15th November
Our wine list, mainly comprising wines from the hotel property (Château Clos de Sarpe and Charles de Sarpe, lovingly produced by Jean-Guy Beyney) will introduce you to terroir wines produced using integrated farming methods.
Discover Château Clos de Sarpe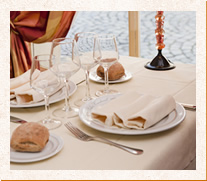 Half-board
Palais Cardinal propose également des séjours en formule Demi-Pension.
breakfast and dinner. Dinner is served in the Palais-Cardinal restaurant where you can enjoy local dishes in a peaceful, warm atmosphere, overlooking our private garden.